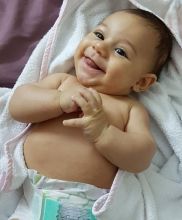 Imagine needing to choose between buying diapers or putting gas in your car. Or having to miss work because you don't have enough diapers to give to your childcare provider. Or trying to wash a dirty disposable diaper because you don't have any fresh ones for your baby.
 
We know this is a real need for families in Dare County, and Children & Youth Partnership for Dare County (CYP) is responding to this need by working with others to launch CYP's Diaper Bank – A Change for the Better. Believing that all children deserve equal care and basic necessities, we plan to supply diapers to families in need. Our goal is to eliminate the diaper need in Dare County and help improve children's lives continually through community support.
---
How Can You Help us Make a Change for the Better? 
Right now, you can help by donating funds or goods to this effort.
To donate tax-deductible funds toward the purchase of diapers, you can:

Click here to visit CYP's Donate page. Please be sure to select CYP's Diaper Bank as the purpose of your donation.
Mail a check to CYP at 534 Ananias Dare Street, Manteo, NC 27954. Please put 'CYP's Diaper Bank' in the Memo line.

To donate unopened diapers, you can:

Check our Amazon Wish List to place an order of any size to be sent to our address.
Drop off unopened packages of diapers at the Center for CYP in Manteo. Throughout September 2023, diapers can be dropped off at any of the Dare County Library locations (KDH, Manteo, Hatteras), or the Outer Banks Family YMCA as well. 

Hold a diaper drive benefiting CYP's Diaper Bank. See more information below about how to do that!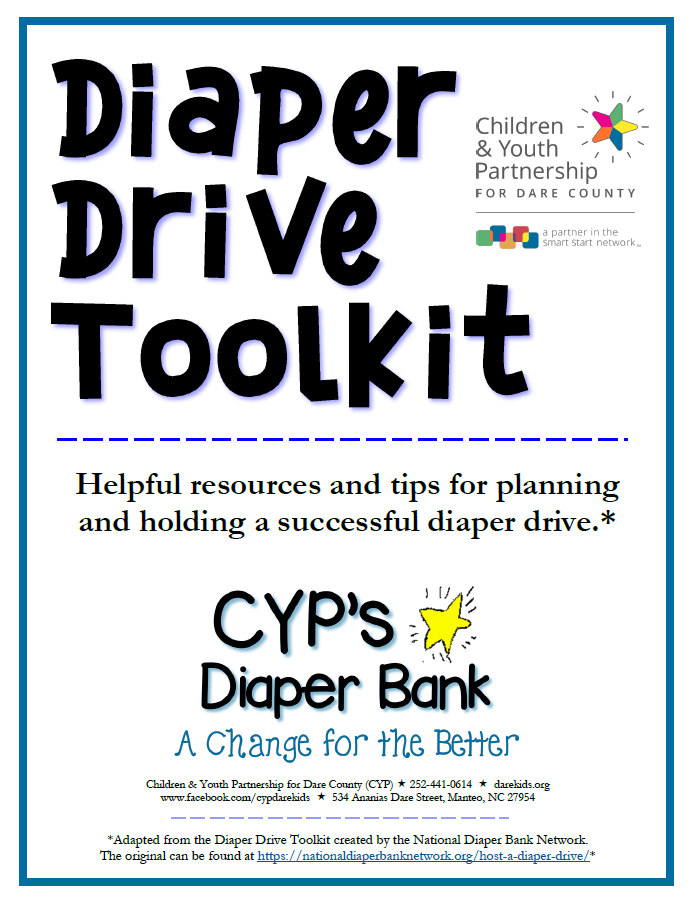 ---
What is a Diaper Drive?
A diaper drive is like a food drive, only with diapers, and can be hosted by individuals, businesses, or organizations in-person or virtually. With a diaper drive you can set the amount of days/weeks/months that you hold it. Then, during the time of your drive, people can bring in their donations of diapers and place them in a collection box (or wherever you have designated) to receive donations (CYP has collection boxes available for use by anyone holding a Diaper Drive). After your drive ends, you can get in touch with us at CYP about how to get the diapers to us, whether we pick them up from you, or you deliver them to us*.
 
For tips on how to organize your OWN Diaper Drive, check out CYP's Diaper Drive Toolkit!
 
*Please call ahead if you are planning to deliver any materials to the Center for CYP in Manteo.*
---
Why is CYP addressing Diaper Need?
Diaper need – the lack of a sufficient supply of diapers to keep a baby or child clean, dry, and healthy – is a significant problem in Dare County that has continued to grow as our community continues to feel the effects of COVID and inflation. Right now:
Infants/Toddlers require 8-12 diapers a day, costing nearly $100 a month for families. This is only for one child, so families with multiple young children can see that number double or triple.
Diapers cannot be purchased with food stamps or WIC. While they are able to be purchased with Temporary Assistance for Needy Families (TANF) cash assistance, less than a quarter of families living below the Federal Poverty Level actually receive TANF. 
One in two American families has difficulty affording diapers at all.
Most childcare programs require parents to provide disposable diapers in order for their infant/toddler to attend.
Nearly 75% of families who reported not being able to provide clean, dry diapers for their child felt that they were not good parents.
Lack of adequate clean diapers can lead to severe diaper rash and excessive crying that, when coupled with the stress of living in need, can lead to child abuse.
---
How will CYP be distributing diapers and wipes that are purchased/received?
We know that these are hard times for families in our community, and we at CYP want to help. During our diaper drive-thru/pick-up events, Dare County families will receive FREE diapers to help with their diapering needs. While supplies last, diaper sizes available are newborn to size 6, with a limit of two packs per family at each event.
---
CYP's next contactless Diaper Pick-Up will be held on December 12-13 from 9:30am-6:00pm at the Center for CYP in Manteo (534 Ananias Dare Street, Manteo).*

Here's what you do: 
1) Arrive at the Center for CYP (534 Ananias Dare Street, Manteo) and remain in your car.
2) Call upon your arrival to let the staff member know your size needs -- 252-441-0614.
3) Staff will gather your diapers and bring them outside to a designated table on the porch or in the parking lot. Please remain in your car during this time.
4) Once the staff member has returned to the porch/office, you can get out of your car and pick-up your diapers.

*During our December Diaper Pick-Up event, on December 13 from 10:30am-1:30pm, the Outer Banks Health Coach will be on-site to provide free flu shots and wellness screenings for anyone age 18 and older who may be interested.*
-------------------------------------------------------------------------------------------------
Follow us on Facebook to stay up-to-date with this and other events!
CYP's Contactless Diaper Pick-Up- Manteo- December 12-13
CYP's Facebook: www.facebook.com/cypdarekids
Stay tuned to this page for upcoming dates and times for additional distribution opportunities on Roanoke Island, Kitty Hawk, and Hatteras Island.
---
We hope you'll join us in making a Change for the Better!
---
Thank you to these wonderful individuals, businesses, churches, and organizations for helping us make a Change for the Better in 2023-24!
Alyssa Saunders
Croatan Tattoo Company
Dare County Library
Edward & Margaret Lawler
Fraternal Order of Eagles #4506
Fulltime Families
Jane Webster
Jennifer Albanese- Interfaith Community Outreach
KHUMC Women's Ministry Fellowship
Laurie Grant
Michelle Portoukalian
Nandy Stuart
OBX Mommy & Me
Outer Banks Health
Roanoke Island Food Pantry
SAGA Realty & Construction
Sarah Weimer
Sheena Fuller
Sheila Davies
Theodore Moore
Tris Roderick
World Share
---
Thank you to these wonderful individuals, businesses, churches, and organizations for helping us make a Change for the Better in 2022-23!
Devyn McDowell
Nancy Griffin and Ken Dyar
Michelle Lewis
Sandra Appleton
Heron Pond Montessori School
Beverly Louis
Wanchese Assembly of God
Outer Banks Family YMCA
Kitty Hawk Baptist Church
Ramada Plaza Nags Head
Toni Blanchard
Michelle Smith
Doug & Ashley Stoddart
Roanoke Island Presbyterian Church
Link Ladies of Nags Head
Colington United Methodist Church
Outer Banks Presbyterian Church
Carla Heppert
Town of Kill Devil Hills
Sheila Novak
Manteo Faith Baptist Church
Kaylee Askew
Karla Martin
Sean Ellis
Sheena Fuller
---
Thank you to these wonderful individuals, businesses, churches, and organizations for helping us make a Change for the Better in 2021-22!
Amy Silva
Ana Sommers
Ann Bartuska
Ashley Johnson
Bailey Allison
Barbara Becker
Chelsey Jordan
Christine Connor
First Flight Rotary Club
Fraternal Order of the Eagles Auxiliary
Frederick Black
Healthy Environments Child Development Center, KDH
Hilary Folkner
Jamie and Anna Brumbeloe
Jane Webster
Jenn Noell
Joseph Addison
Kaylee Askew
Karen Smith
KHUMC Women's Ministry Fellowship      
Kitty Hawk Baptist Church
Manteo First Assembly of God, Inc.
Michelle Portoukalian
Mt. Carmel Methodist Church
Nancy Griffin & Ken Dyar
Nancy Snead
Niki Stafford
Outer Banks Community Foundation
Outer Banks Family YMCA
Outer Banks Presbyterian Church 
Roanoke Island Christian Fellowship
Susan Lee
Sheila Novak
---
Thank you to these wonderful individuals, businesses, churches, and organizations for helping us make a Change for the Better in 2020-21!
Angela & Drew Owens         
Ann K. McDanel
Ann Smith
Ascencion Music Academy
Ashley Hoggard
Avery Harrison
Bailey Allison
Bailey Mitchell
Barbara Becker
Barbara Johnston
Barkley Plumbing, Inc.
Benvy Caldwell
Bonnie Brumbeloe
Capt. Lee Baronet
Carol Riggin
Cheryl Ford
Chicahauk Property Owners Association
Christie McEwan
Cindy McGann
Cozy Kitchens
Cub Scout Pack 116, KDH
Debbie Montgomery
Deborah Ashe
Dena Wiggins
Elisa Palmer
Employees of PNC Bank
Food Bank of the Albemarle
Free Grace Church of Christ
Harris Teeter, Kitty Hawk
Heidi Velazquez
Hilton Garden Inn Outer Banks/Kitty Hawk
Home Solutions of Carolina, Inc.
Jan Wilson
Jamie Wegener
Jane Soluri
Jennifer Alexander
J. Keith Letchworth
Joanne Adams
Joanne and Joe Meagher
Jody Preiser
Jonathan Wark
Kayla von Briel
Kitty Hawk Baptist Church
Kitty Hawk Kites staff
KHUMC Women's Ministry Fellowship 
Liberty Christian Fellowship
Lora Eddy
Marion Midgett
Mindy Travis
Molly Harrison
Nancy Griffin
Nellie Dixon
North Carolina Community Foundation
Outer Banks Community Foundation
Outer Banks Mommy & Me, LLC
Outer Banks Presbyterian Church
Outer Banks Woman's Club
Pamela Waters
Patricia Devos
Rendy King
Resort Realty of the Outer Banks
Rev. Dr. Thomas H. Priest, Jr.
Rina Rotunno
Roanoke Island Christian Fellowship
Roanoke Island Presbyterian Church
Robin South
SAGA Community Focus
Sara Hallas
Sheila Novak
Sierra Williams
Terri Hathaway
Tristan Roderick
And the many wonderful donors who purchased through our Amazon Smile Charity Wish List!