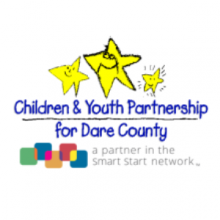 We at Children & Youth Partnership have compiled a variety of resources to help children and families in our community during this challenging time of social distancing related to COVID-19. Please check back frequently for updates to the resources provided below, as we will be adding new links as the days and weeks continue on.
If you have a great resources that you feel should be included, please feel free to email it to Carla Heppert at wings@darekids.org.
 
---
Dare County/North Carolina Specific Resources:
Beginning on March 23, Dare County Schools will transition to online learning for all students. For more information about Dare County Schools:
Dare County: Dare County has a specific website devoted to the Coronavirus, as well as their emergency management procedure. For more Dare County-specific information:
        - Emergency Management
        - Coronavirus
Dare County Libraries: The Eastern Albemarle Library System offers a variety of electronic resource options for adults and children. During the COVID-19 closure, any Dare County resident or property owner can apply for and receive a library card account that will allow them to access the Dare County Library's digital content listed below. Click here to apply (at the bottom of the page).
       - Adult E-Resources
       - Student E-Resources
North Carolina Unemployment Benefits- NC Governor Roy Cooper has expanded upon the eligibility for unemployment benefits in this uncertain time. For more information or to apply for unemployment benefits: 
North Carolina Department of Health & Human Services- Visit this website to have some of your questions answered regarding COVID-19 in North Carolina. 
---
Food Availability Resources:
---
Live-Streamed Enrichment Activities for Students (Occur at Specific Times):
Every Weekday from 8:00am-10:00am: Science Mom and Math Dad will host daily science and math lessons via Facebook Live events. Each show will features a science lesson, math activities, interactive games, and stories. These lessons are best suited for ages 7-12.

- The Science Mom Facebook Page 
 

Every Weekday at 11:00am: ZooAmerica will be live streaming visits with some of their zoo friends. 

- ZooAmerica Facebook Page
 

Every Weekday at 11:00am: Play to Learn Preschool will hold a circle time live video with songs, stories, games, and typical circle time activities. This is best suited for preschool-aged children

 - Play to Learn Preschool Facebook Page
 

Every Tuesday, Wednesday, and Thursday at 1:00pm: Visit Mindful Schools to check out free online mindfulness classes specifically geared toward kids.
 

Every Weekday at 1:00pm: Beloved children's author Mo Willems (author of the Elephant and Piggy series and Don't let Pigeons Drive the Bus, etc.) will invite you into his studio every day to draw, doodle, and explore new ways of writing.

- The Kennedy Center: Lunch Doodles with Mo Willems
- Mo Willems Facebook Live Event
 

Every Weekday at 3:00pm: Cincinnati Zoo will provide a Home Safari Facebook Live Video. During this video, a new zoo animal will be highlighted each day. An activity will also be provided that your child will be able to do at home. If you are unable to access the video via Facebook Live, it will be posted on Youtube and the Cincinnati Zoo's website, along with the activity.
       - Cincinnati Zoo Live Event Link
       - Cincinnati Zoo Posted Resources
 
Every Thursday at 7:00pm: Join Dolly Parton for 'Goodnight with Dolly' as she reads one of the many books from her Dolly Parton's Imagination Library collection. 
 

The Link below provides a compiled spreadsheet of many of the livestreamed activities occurring during week days across the United States.
       - Livestreamed Events during Week Days
 
---
Learning Resources:
How Families Can Make the Most Out of School Closures: This article provides a great sample schedule for your child's day, as well as other ideas for projects, setting goals, and boundaries.
 

Teaching kids at home due to coronavirus? Homeschooling moms share their tips: This article provides great advice on setting up a plan for schooling at home.
 

Scholastic Learn at Home: Scholastic provides free daily learning experiences including stories, videos, and activities, based on the grade level of your child (Pre-K-Middle School aged children).
 

Khan Academy: Khan Academy provides a variety of resources for children grades Pre-K-grade 12. Visit their website for help with various learning topics (math by grade level, science, etc.) and sample schedules for while school is closed.
       - For grades K-12
       - For children ages 2-7- Khan Academy Kids
---
Fun Activity Resources:
---
Mental Health/Mindfulness Resources: 
---
Resources to Share COVID-19 information with Kids:
---
Early Childhood Education Resources:
---
Adult Learning Resources:
---
Health and Safety Resources:
DIY No Sew Face Mask- This Youtube video shows how to make a face mask using a bandana and rubber bands. 
 

How to Protect Yourself and Others- This article from the Centers for Disease Control and Prevention highlights ways to keep you and your family safe in the midst of the coronavirus.