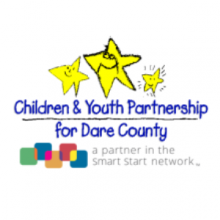 We at Children & Youth Partnership have compiled a variety of resources to help children and families in our community during this challenging time of social distancing related to COVID-19. Please check back frequently for updates to the resources provided below, as we will be adding new links as the days and weeks continue on.
If you have a great resources that you feel should be included, please feel free to email it to Carla Heppert at wings@darekids.org.
 
---
Early Childhood Education Resources:
---
Mental Health/Mindfulness Resources: 
Are you a Dare County resident who is struggling emotionally? Has the COVID-19 pandemic got you feeling down or anxious? Speak with a counselor today by calling 252-473-8216 between 9am-3pm.*
*This is not an emergency or crisis line. This service provides a listening ear and referrals to other services for individuals in Dare County who need emotinal support during this difficult time.
 

The Hope4NC Helpline (1-855-587-3463) connects North Carolinians to additional mental health and resilience supports that help them cope and build resilience during times of crisis. It is currently being made available to everyone in North Carolina's 100 counties during the COVID-19 crisis.
 

The Hope4Healers Helpline (919-226-2002) provides mental health and resilience supports for health care professionals, emergency medical specialists, first responders, early care educators, other staff who work in essential settings and their families throughout the state who are experiencing stress from being on the front lines of the state's COVID-19 response. Hope4Healers is available 24 hours per day, seven days a week for people to reach out for support; they will be contacted quickly by a licensed mental health professional for follow-up. Check out the flyer in English by clicking here y en Español, here. 

Mindfulness Class for Kids: Mindful Schools is offering a free mindfulness class for kids with fun, interactive activities, 30 minutes of mindfulness, and more. 
 

Take a Deep Breath: Enjoy this curation of content hand-picked to support your mental and emotional wellness through this time.
 

Resilience in Challenging Times: This link provides a digital care package for promoting resilience during this time of uncertainty.
 

Managing Anxiety and Stress: Centers for Disease Control and Prevention
 

Stop, Breathe & Think: This website provides activities for adults and kids about how to practice mindfulness.
 

Being Resilient During Coronavirus: During times like these, it's natural to feel afraid, anxious, or threatened. This link provides great resources for being resilient during COVID-19.
 

Cosmic Kids Yoga: This YouTube Channel provides videos that demonstrate yoga and mindfulness activities for children ages 3 and up.
 
Tips to Reduce Stress and Anxiety During Coronavirus Coverage- American Psychological Association
 
How to Eat more Mindfully- This video encourages you to engage all of your senses while eating something delicious.
 
Care for your Coronavirus Anxiety- This link provides resources for anxiety and your mental health in a global climate of uncertainty.
 
Coronavirus Resources & Tips for Parents, Children, & Others: On this website, Prevent Child Abuse America provies great tips for staying connected, staying active and engaged, and managing stress and anxiety.
 
Ways to Promote Children's Resilience to the COVID-19 Pandemic: This article from Child Trends highlights several protective factors that can help to buffer children and increase their resiliency. 
 
Random Acts of Kindness: During difficult times, we often see the most beautiful acts of kindness. If you're home and looking for things to do to keep busy, check out this website.
 
The Brain Architects: While the coronavirus pandemic has changed many things around the world, it has not stopped child development. Check out this podcase as they share helpful resources and ideas in support of all those who are caring for children while dealing with the impacts of COVID-19.
 
COVID-19: Stress, Distress and Trauma: This resources provides several short videos in a series with Dr. Bruce Perry. Through his videos, he discusses patterns of stress, self-care, understanding regulation, decision fatigue, and much more. 
 
If your kids are acting out, they might just be sad: This article provides insight into why some children may be acting out of sorts during the COVID-19 pandemic.
---
Dare County/North Carolina Specific Resources:
Dare County: Dare County has a specific website devoted to the Coronavirus, as well as their emergency management procedure. For more Dare County-specific information:
Dare County Libraries: The Eastern Albemarle Library System offers a variety of electronic resource options for adults and children. During the COVID-19 closure, any Dare County resident or property owner can apply for and receive a library card account that will allow them to access the Dare County Library's digital content listed below. Click here to apply (at the bottom of the page).
       - Adult E-Resources
       - Student E-Resources
North Carolina Unemployment Benefits- NC Governor Roy Cooper has expanded upon the eligibility for unemployment benefits in this uncertain time. For more information or to apply for unemployment benefits: 
North Carolina Department of Health & Human Services- Visit this website to have some of your questions answered regarding COVID-19 in North Carolina. 
---
Food Availability Resources:
---
Live-Streamed Enrichment Activities for Students (Occur at Specific Times):
Every Weekday from 8:00am-10:00am: Science Mom and Math Dad will host daily science and math lessons via Facebook Live events. Each show will features a science lesson, math activities, interactive games, and stories. These lessons are best suited for ages 7-12.

- The Science Mom Facebook Page 
 

Every Weekday at 11:00am: ZooAmerica will be live streaming visits with some of their zoo friends. 

- ZooAmerica Facebook Page
 

Every Weekday at 3:00pm: Cincinnati Zoo will provide a Home Safari Facebook Live Video. During this video, a new zoo animal will be highlighted each day. An activity will also be provided that your child will be able to do at home. If you are unable to access the video via Facebook Live, it will be posted on Youtube and the Cincinnati Zoo's website, along with the activity.
       - Cincinnati Zoo Facebook Page
       - Cincinnati Zoo Posted Resources
 
Every Thursday at 7:00pm: Join Dolly Parton for 'Goodnight with Dolly' as she reads one of the many books from her Dolly Parton's Imagination Library collection. 
 

The Link below provides a compiled spreadsheet of many of the livestreamed activities occurring during week days across the United States.
       - Livestreamed Events during Week Days
 
---
Learning Resources:
How Families Can Make the Most Out of School Closures: This article provides a great sample schedule for your child's day, as well as other ideas for projects, setting goals, and boundaries.
 

Teaching kids at home due to coronavirus? Homeschooling moms share their tips: This article provides great advice on setting up a plan for schooling at home.
 

Scholastic Learn at Home: Scholastic provides free daily learning experiences including stories, videos, and activities, based on the grade level of your child (Pre-K-Middle School aged children).
 

Khan Academy: Khan Academy provides a variety of resources for children grades Pre-K-grade 12. Visit their website for help with various learning topics (math by grade level, science, etc.) and sample schedules for while school is closed.
       - For grades K-12
       - For children ages 2-7- Khan Academy Kids
---
Fun Activity Resources:
---
Resources to Share COVID-19 information with Kids:
---
Adult Learning Resources:
---
Health and Safety Resources:
DIY No Sew Face Mask- This Youtube video shows how to make a face mask using a bandana and rubber bands. 
 

How to Protect Yourself and Others- This article from the Centers for Disease Control and Prevention highlights ways to keep you and your family safe in the midst of the coronavirus.