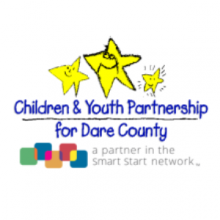 Greetings, Friends:
We at Children & Youth Partnership for Dare County (CYP) are taking COVID-19 seriously, and we wanted to let you know how we are handling the situation to keep families and staff safe. CYP is committed to doing its part to protect our community.

To support the benefits of social distancing recommended at this time, the CYP Center will be closed to the public beginning Monday, March 16th through at least April 1st. At this time, we are cancelling our Explore to Learn Play Group on March 20th and our Block Play Extravaganza in Buxton on March 26th. The Parenting Today's Teens workshop scheduled for March 23rd will be postponed.

Additionally, in following the CDC's recommendations to cancel events with attendance over 50 people during the next 8 weeks, we have made the difficult decision to postpone KidsFest this May.  We will closely monitor the situation and adjust other dates as needed.
CYP staff will be working remotely beginning March 19th. During this period of teleworking, we ask families and partners to note the following:
We will continue to monitor the COVID-19 situation closely. Please watch your email, CYP social media accounts, and our website's blog for helpful information and updates on the status of CYP's continuing programs and services. Links are provided below.
CYP blog (darekids.org/blog)
Facebook (www.facebook.com/cypdarekids)
Pinterest (www.pinterest.com/cypdarekids)
Be well,  

The CYP Team